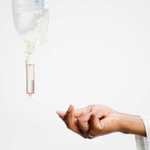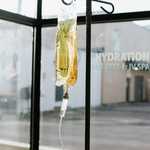 Nutrients are essential for the proper functioning of all the cells in our body. They provide the
energy and raw materials needed for growth, repair, and maintenance of the body's tissues. While
nutrition focuses a lot on carbohydrates, fats, and proteins as the primary sources of energy for
cells, vitamins and minerals are also vital for cellular functioning. Specifically, vitamins and
minerals act as cofactors in various enzymatic reactions to help us detoxify, regulate our
stressors, produce hormones, heal wounds and more.


Maintaining proper nutrition is hard.
Whether it is managing a busy lifestyle, suboptimal absorption (due to issues with your gut
health), increased demand for nutrients (stress, burnout, fertility, dampened immune system) or
other life challenges thrown into play, consistency with nutrition is tough.
This is when I love using IV nutrient therapy as a tool.


4 Benefits of IV Nutrient Therapy
Speed: Nutrition takes time. As I've said before, it's not what you do occasionally that makes a difference, but what you do consistently. This absolutely applies to nutrition. With that said, what happens when we need some accelerated support in the nutrition department? Enter IV therapy. Times when I find the speed of IV therapy to beneficial are when you're fighting a bug and need some extra immune support, before an IVF cycle where we want to support egg and sperm quality with antioxidants, when you're lacking in the hydration department, and many others.

Absorption

:

You are what you

eat

absorb

If you're one of the many people who suffers from IBS, IBD, or other gut function concerns, you may not be absorbing your nutrients effectively. This is not only something

we can test for, but something we can optimize.

IV vitamin and mineral therapy delivers

nutrients directly into the bloodstream, bypassing the digestive system. This means that the nutrients are immediately available to the body and are not lost during the digestion process, resulting in higher absorption rates.
Dosage: A limiting factor to oral supplements. You can only absorb so many nutrients at once. This is why I often recommend oral supplementation in divided doses. Also, certain nutrients block absorption of others, or bind them thus preventing your body from using them. IV therapy allows for higherdosages of vitamins and minerals to be administered and utilized in the body than what is possible with oral supplementation.
Targeted treatment: IV therapy can be customized to address specific deficiencies or health conditions.
Dr. Rachelle custom formulates each IV visit depending on your individual needs.
Do you have questions about IV therapy? Book in for a Discovery call with Dr. Rachelle to see if
IV therapy is right for you.

Dr. Rachelle Peltier
Naturopathic Physician
Contact Me